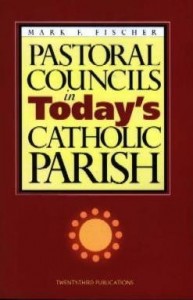 Reviews: What did people say about
Pastoral Councils in Today's Catholic Parish?
"If you need one book on parish pastoral councils for your library, this may be what you are looking for. Fischer combines original research and meticulous scholarship with an engaging anecdotal style that makes this book accessible to the common reader. The material is very well organized with helpful chapter introductions and summaries. The final chapter offers a model for parish pastoral council guidelines that could help readers looking to formulate or revise their existing guidelines. Diocesan staff responsible for council development could use the book as a reference tool. The scholarly endnotes, exhaustive bibliography, and partial listing of diocesan guidelines for parish pastoral councils are worth the price."
"Mark Fischer is, without question, the leading expert on parish pastoral councils. This book is for the individual who is interested in more than just a handbook for pastoral councils. It is for those who are concerned about the 'whys' behind the 'whats.' It provides a plethora of information on how councils emerged to the point where they are today."
Brother Loughlan Sofield, ST, Co-author, Collaboration: Uniting Our Gifts in Ministry
"Mark Fischer offers an important, timely analysis of parish pastoral councils. Honoring both practical experience and church teaching, his book provides vision and guidance to those in council ministry. A ready reference for pastors, council members, anyone who seeks to create or improve their parish council in the spirit of Vatican II."
Maria Rodgers O'Rourke, Executive Director, The Conference for Pastoral Planning & Council Development
"This book engages the reader in one of the most comprehensive studies on the growth and evolution of the pastoral council since Vatican II. In a superb analysis of the conciliar and post-conciliar documents, the ideas, theories, trends, steps and missteps of the 60s and 70s, the 1983 Code of Canon Law, and the developments in the 80s and 90s, Fischer illustrates how councils have not only matured, but have corrected erroneous positions held as inviolable for many years. He offers an exciting vision that could convince even the most ardent opponents of councils. The book is an essential resource for anyone involved in the process of evaluating their own current practice or in seeking new direction. While some will find this work a little heavy, all will agree that a finer analysis just has not been written."
Roger H. Keeler, Edmonton, Alberta
"This book brings to the reader an awesome collection of historical facts, documentation, data collection, sources, personal experience and solid recommendations. And in that process Fischer fearless hits all the 'hot buttons' we have struggled with for years: purpose, committee structure, understanding of consultation, leadership, and selection of members. And who would have thought that we could look to Aristotle for a definition of the kind of folks we need to have serving on a pastoral council?
"The book will be intriguing reading for those who, like myself, have been involved for years in these formative struggles with councils, to see it all spelled out with such clarity. The greatest value of this book, however, will probably be found in the conclusions that Fischer reaches about what he calls a 'foundation document.' Here we will all learn more effective ways to put flesh and bones on the result of the author's insights as we foster the work of the Spirit in the American church. Thank you, Mark Fischer!"
Mary Benet McKinney, OSB, D.Min., Chicago, IL
"This is the perfect book for thoughtful members of parish councils and for the pastors who work with them. Mark Fischer knows more about parish pastoral councils than anyone else in the United States, and he has written an excellent and very readable book about them. His book is rich in both practice and in theory. It combines careful theology and history with practical wisdom.
"The book has three sections: an empirical portrait of parish councils, the history of their development since the Second Vatican Council, and advice for building an effective council. It concludes with a suggested foundational document for a pastoral council.
"Fischer's study is well-organized and accessible, with very helpful introductions, summaries, and internal cross-references. Its hundreds of helpful notes are tucked away so as not to encumber those who find them distracting, and the exhaustive bibliography alone is reason to purchase the book. I recommend this fine book very highly. Pastoral Councils in Today's Catholic Parish should be required reading for any serious student of Roman Catholic church structures."
James A. Coriden, J.C.D., J.D., Professor of Church Law, Washington Theological Union